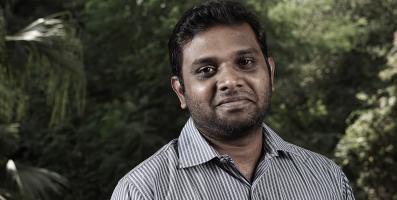 Ambarish Karunanithi was a Senior Research Associate at CPR and was a part of the 'Scaling City Institutions for India' (Sci-Fi) project. His area of interest is urban sanitation solutions, urban symbiosis and circular economy. His work was mainly focused on technical analysis of alternate sanitation solutions for urban areas.
Prior to joining CPR, he headed the technical support unit at Bhubaneswar Municipal Corporation, Odisha. As a head of the unit, he supported the municipal body in planning and implementation of National and State level Urban Infrastructure Schemes (Smart Cities Mission, Atal Mission for Rejuvenation and Urban Transformation and Swachh Bharat Mission).
Karunanithi was trained as a Chemical Engineer at Vellore Institute of Technology, Vellore and obtained his Masters in Energy and Environmental Engineering from Linkoping University, Sweden. During his tenure at Linkoping University, he worked as a Researcher in the Environmental Technology and Management Division of the University. As a graduate researcher, he got involved in system analysis of biofuels.