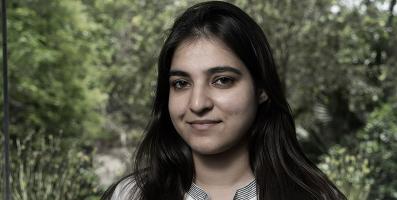 Sanjana Malhotra was a Research Consultant at the Accountability Initiative (AI).
Prior to joining AI, Sanjana has worked in a variety of roles. As Director of Development and Strategy at Khushi Baby, she helped develop a culturally-appropriate, wearable digital health record to track immunizations and antenatal health care services at the last-mile. It was based on the 'taveez' and connected the idea of protection from the evil eye to the function of immunization. Along with the team, Sanjana received the Wearables for Good Award from UNICEF, participated in UNICEF Innovation's first incubator program, and was a Co-Principal Investigator for a $250k research grant from 3ie.
Sanjana has also worked as a Research Associate to Professor Esther Duflo at the Abdul Latif Jameel Poverty Action Lab (J-PAL) to study an incentive-based intervention to improve immunization rates in rural Haryana.
Most recently, she has worked within government in Rajasthan. As a Zila Swachh Bharat Prerak (supported by the Ministry of Drinking Water and Sanitation and Tata Trust), Sanjana worked within the Jodhpur district government to improve the implementation of Swachh Bharat Mission – Gramin. Subsequently, she worked with the Mission Director, National Health Mission – Rajasthan, on e-Upkaran (Rajasthan's health equipment management system) and the Health and Wellness Centres established under the Ayushman Bharat Mission.
Sanjana completed her Bachelor's degree at Columbia University.