The Government of India's premier think tank NITI Aayog, in its three-year action agenda, has called for India to replicate the success of Shenzhen in China, not just as a successful Special Economic Zone but also as a shining example of organized urbanisation and modernization. Worldwide, Shenzhen has been upheld as a model for its rapid growth, for the boomtown phenomenon it spearheaded nicknamed 'Shenzhen Speed', earning it the moniker 'Instant City'. But there's more to Shenzhen than meets the eye. Can its success really be replicated? Can we really learn from Shenzhen, and if yes, how?
The urbanisation team at the Centre for Policy Research has been, since 2016, in a dialogue with scholars working on Shenzhen, to explore some of these questions. On 12-14 January 2018, CPR co-organised a workshop
Titled 'Informal Plans, Planned Informality: Shenzhen as Model and Field' at the Hong Kong/Shenzhen Architecture and Urbanism Biennale (UABB) to examine one of Shenzhen's most prominent but least understood characteristics, the role of informality in the success of the city. The workshop was conceptualized by Mary Ann O'Donnell (Handshake 302, Shenzhen), Jonathan Bach (Associate Professor, Global Studies, The New School, New York) and Mukta Naik (Senior Researcher, CPR, New Delhi) and supported by the India China Institute.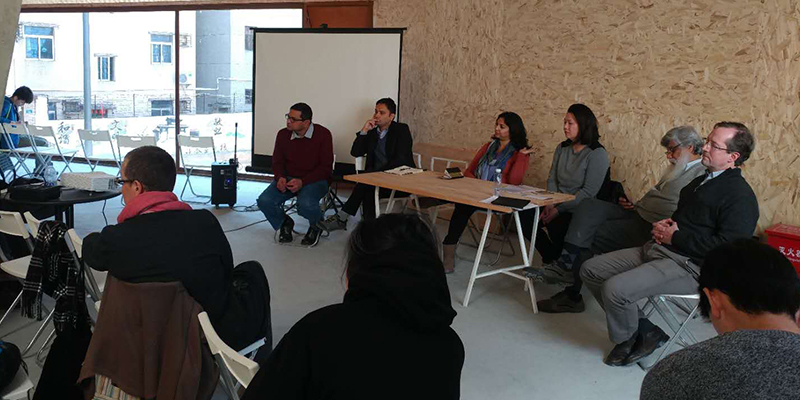 Looking at informality as a necessary element of contemporary urbanisation, the workshop was an empirical exploration of how informality produces, and is produced by, the coevolution of the planned and the unplanned most visibly expressed by the continued relevance of, and changing State attitude to, urban villages. On Day 1, presentations by young scholars Kim Do Dom (PhD candidate in Anthropology at University of Chicago), Cai Yifan (PhD Candidate in Geography at Clark University) and Fu Na (Graduate Student, New School) generated a lively discussion on elements of informality in the realms of citizenship, intellectual property rights and entrepreneurship in Shenzhen. Post-lunch, Shaun Teo's (PhD Candidate in Geography, University College London) guided exploration of the UABB venue and exhibits offered insights into the salient urban questions being asked by practitioners and researchers in the Pearl River Delta. Inclusion, participation, identity and sustainability were some of the recurring themes, in line with the UABB's intention of being a space for critical thinking and free expression. Ironically Nantou village, its main site, was both sanitised and under surveillance, raising questions about the impact of large events on city neighborhoods.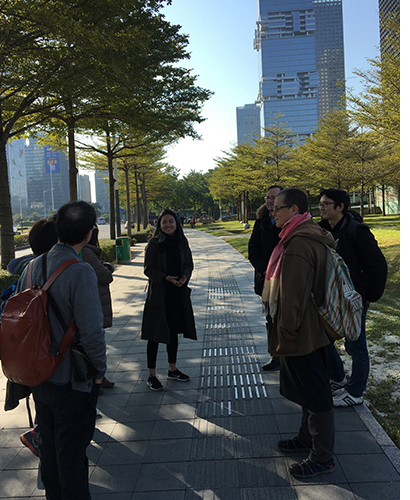 On Day 2, Indian scholars took the stage, viewing Shenzhen 'from' India. CPR researchers Partha Mukhopadhyay and Mukta Naik reacted to the book 'Learning from Shenzhen' edited by Jonathan Bach, Mary Ann O'Donnell and Winnie Wong using examples of four Indian urban projects—Dholera, Sri City, Amravati and Gurgaon. Vamsi Valukabharanam from University of Massachusetts, Amherst, spoke about spatial inequalities in Indian cities, using the example of Hyderabad. Rohit Negi from Ambedkar University, Delhi, used the conversation on air quality in urban locations as a theme to explore the intersections between urban equity and ecology. Du Juan from Hong Kong University presented innovative design work done at her design lab that helped improve the habitat of renters in Hong Kong's ultra-crowded subdivided apartments. In the afternoon, participants were treated to an exploration of Shennan Boulevard, Shenzhen's major east-west road, led by anthropologist Zhou Ximin.
The conversations from the morning sessions spilled over onto the delectable lunches on both days, as participants discovered mutual interests, satisfied their curiosity about new cultures and raised provocative questions. It was no surprise that the writing workshop conducted by Mary Ann on Day 3, emerged as both introspection and synthesis, a delightful discovery of the power of written word to merge sentiment with academic insight.
A final visit to the Shekou Museum of Reform and Opening reminded us that as much as Shenzhen was a product of the selective absence of the State, it was also born of innovation and vision in the aftermath of Maoist socialism. In the spirit of comparison, we believe that studying Shenzhen, and perhaps other Chinese citymaking experiments, can reveal alternate possibilities to Indian cities, especially in accommodating informality even as they pursue the dream of modernity and 'world-class' urbanity. The workshop, in this sense, was another step in a continuing effort to "track algorithms that constantly produce…borders, which in turn keep re-producing the city". As Mary Ann asks in her highly nuanced workshop report, "what does it mean…. to document uncertainty?"