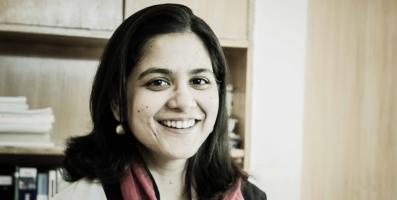 Shibani Ghosh was a Fellow with the Initiative on Climate, Energy and Environment (ICEE) at the Centre for Policy Research (CPR), and an Advocate-on-Record, Supreme Court of India. She researched and wrote on issues relating to environmental law, regulation, and governance. She also appears in environmental cases before the Supreme Court and the National Green Tribunal. She has authored several articles, chapters, and opinion pieces on environmental issues such as environment impact assessment, air pollution and climate litigation. She has edited a volume titled 'Indian Environmental Law: Key Concepts and Principles' (Orient Black Swan, 2019, open access link here) which provides in-depth case-law based analysis of Indian environmental jurisprudence.
Shibani has been a Sustainability Science Fellow at the Harvard Kennedy School (2014-2015), and a visiting faculty at the TERI University and the RICS School of Built Environment, where she taught environmental law. She was previously associated with the Legal Initiative for Forest and Environment (LIFE), an environmental law firm, and has also worked as a legal consultant with the Central Information Commission, a quasi-judicial body set up under the Right to Information Act, 2005.
She is a Rhodes Scholar and holds a Master of Science (M.Sc.) in Environmental Change and Management and a Bachelor in Civil Law (BCL, a graduate degree in law) from the University of Oxford. She has an undergraduate degree in law from the National University of Juridical Sciences, Kolkata.