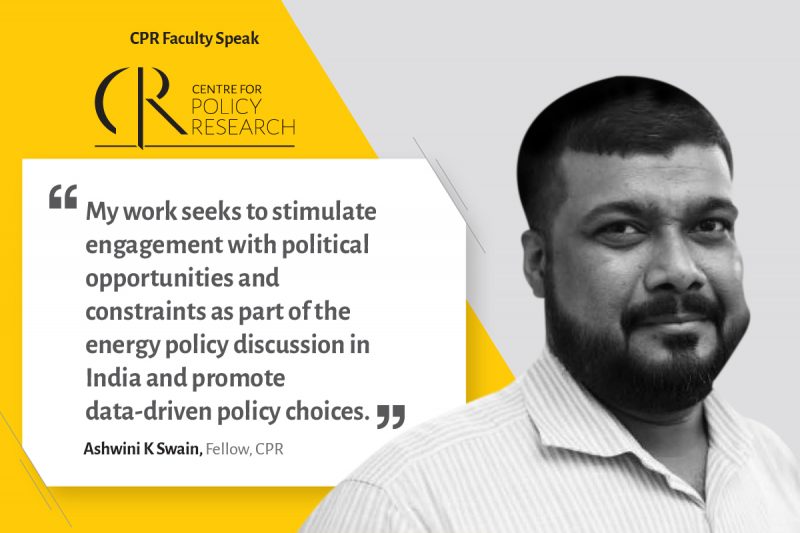 Ashwini K Swain is a Fellow at CPR's Initiative on Climate, Energy and Environment (ICEE). His research interests include the political economy of electricity, the interface between energy service needs and climate mitigation goals, and the water-energy-food nexus, especially in the Indian context. He has also worked on public participation in service delivery, and has a keen interest in the political economy of India and political analysis. In this edition of CPR Faculty Speak, he talks about his work and interests at CPR, why they matter, what impact he hopes to achieve and more.
Tell us about your research work and interests at CPR.
At CPR, I am a part of the Initiative on Climate, Energy and Environment (ICEE) and work on the energy theme. My research interests include the political economy of electricity, energy transition and the water-energy-food nexus. My work is largely focused on India, with a thrust on the state-level political economy context and Centre-state relations.
Why does these issue interest you?
I was introduced to the electricity sector as a potential case study to understand Centre-state relations in India, when I was a Master's student. I got an opportunity then (2005) to work as a research assistant with Navroz Dubash at the National Institute of Public Finance and Policy (NIPFP). While electricity reforms and policies at that point in India and globally sought to separate the political and economic content of electricity sector decisions, Navroz's research highlighted why such depoliticisation is neither feasible nor desirable. My research interests are shaped by exposure to that analysis at an early stage in my career, along with my disciplinary training in political economy and personal experiences with electricity access.
In our subsequent research, we suggest that electricity sector dynamics cannot be understood independent of the broader political economy trends; we explain how well-designed reform interventions have failed to achieve the desired results due to a lack of engagement with political costs and opportunities. While techno-economic solutions are important, the path forward for Indian electricity lies in finding ways to generate more political payoffs from improving electricity.
How have these issues evolved in the country and globally over the years?
Over nearly two decades of my observation, there has been significant progress in electrical development in India. However, despite sustained interventions, chronic challenges like losses, financial insolvency and unreliable supply are persisting in the sector. On the other hand, driven by a complex set of developmental imperatives, technology cost considerations and climate mitigation considerations, India has embarked on a path to decarbonise its energy consumption through a transition to cleaner sources of energy. Simultaneously, there is a greater recognition of the limits of the 1990s reforms and the importance of political economic forces.
Together, these developments pose potentially disruptive consequences as well as an opportunity to address the 20th century electricity challenges while making a transition to a 21st century energy future.
What impact do you aim to achieve through your research?
Through my research, I seek to highlight the importance of getting energy politics right, explain state-specific political economy forces that shape energy policy decisions and outcomes, and facilitate data-driven and state-specific approaches to improve electricity access. My work seeks to stimulate engagement with political opportunities and constraints as part of the energy policy discussion in India and promote data-driven policy choices.
What does a typical day look like for you at CPR?
A good part of my day goes to responding to emails, project management responsibilities and meeting with people. I try to keep some time for brainstorming with colleagues, reading and writing. Post COVID-19, some of the external meetings have converted to online meetings, which is helpful for time management. CPR generally has an event every other day, which is useful to learn about research outside your area. I am glad that we are getting back to physical events in the building after two years of pandemic related disruptions. Finally, teatime chat with colleagues is the bright spot in my day. I generally look forward to being in the CPR building.
What are you currently working on and why is it important?
I am currently working with my colleagues on four areas to achieve impact.
First, we have been engaging with the national energy policy discussion to suggest approaches to align political conditions to the achievement of an energy transition.
Second, we are analysing the performance of private electricity discoms in Delhi and Odisha, experiences with micro-privatisation in electricity, and centrally-sponsored distribution reforms to stimulate a wider engagement with India's electricity distribution future.
Third, our work on state-specific approaches to energy transition proposes pathways towards convergence between energy transition imperatives and developmental imperatives, particularly around rural productivity.
Fourth, in collaboration with Prayas (Energy Group) and WRI-India, we are developing and executing a state-level framework to assess plans, actions and governance processes towards an energy transition. Building evidence and narratives on energy transition governance is a necessary complement to the techno-economic discourse. Thus, this work aims to catalyse a quicker uptake of energy transition-related ambitions and actions by the states, and seeks to inspire a race to the top among state-level and local actors.
In addition, we have started working on a transition away from coal in India and its consequences. I am looking forward to a colleague joining us in September and taking that work forward.
To know more about Ashwin K Swain's work, click here.